June 17, 2022
Box score | Photo gallery
UTICA, Mich. – Ari Sechopoulos hit the winning home run late in the ninth inning as the Utica Unicorns (9-1) scored four runs in the eighth inning to defeat the Eastside Diamond Hoppers (4-6), 9-8, ahead of a a sold-out crowd at Jimmy John's Field.
Designated hitter Noah Childress led the rally in the eighth inning, followed by Leandy Castro, Matt Parkinson and Luis Atiles, each scoring a run. Parkinson finished the night 2 for 3 with four RBIs.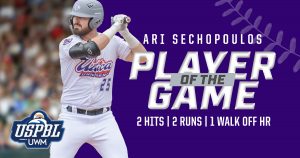 For the Hoppers, Joe Burke continued his hitting streak, going 3 for 4 with 1 RBI and 1 run scored. Jacob Wosinski started on the mound, pitching the first 5.0 innings and striking out five.
Tomorrow is the first doubleheader of the season. The Beavers take on the Mammoths with Game 1 starting at 5:30 p.m. Doors open at 4:30 p.m. It's Classic Rock Night presented by the Jamie Daniels Foundation.
Let's help our furry friends in need. This weekend, our friends at Chevy Detroit are collecting pet supplies that will directly benefit Fido & Fluffy's Rescue. If you have game tickets, please bring a donation and drop it in the Silverado tailgate. You can also stop by any local Metro Detroit Chevy dealership to donate. For a wishlist and more information, visit chevydetroit.com/stand-mics.
#SummerNightsUnderTheLights