JEMISON, Ala.–In the deep woods of central Alabama lives a real Dr. Dolittle. To his family, friends and acquaintances, he is David Dyson and he is on a mission – a mission to save animals and inspire young people through character trait education.
The driveway at the entrance to Compassion Ranch is lined with stately oak trees. Taking note of the visitors, the horses gallop to the fence for closer examination. And despite a history of abuse and neglect, they are happy to see people.
Compassion Ranch is home to 34 animals. And while some came there as a result of abuse or abandonment, others were given after the death of their owners or when their owners were no longer able to care for them.
When Dyson isn't feeding and caring for these animals, he's looking for ways to fund the ranch under his nonprofit status, which includes writing grants to help support the sanctuary for horses, goats, dogs, cats and donkeys it houses. on his property in Chilton County.
He is quick to point out that his ranch is a sanctuary, not a shelter – there is a difference.
"Most animal welfare groups are rescues or shelters, which find permanent homes for rescued or abandoned animals," Dyson told The Epoch Times during a recent visit to the ranch. "We support them. We have done this work. Our model aims to serve as a sanctuary and an education center to give animals a second chance and involve them in programs of service to people. The goal is for most, if not all, of the animals at Compassion Ranch to live here for the rest of their lives.
"We take care of the animals that need our help, and they serve to inspire people and work around the farm," he said.
The ranch's service model is a combination of animal care and working on the root causes of animal abuse. The ranch provides extensive educational resources that are useful in schools as well as homes, Dyson explained.
In 1995, Alabama lawmakers selected 25 traits they believed made a good citizen and required all schools to teach these traits in an effort to reduce school violence. The Alabama State Board of Education has been tasked with developing and implementing character education programs for all grades, with no less than 10 minutes of instruction per day. Some of the character traits included compassion, courage, patriotism, citizenship, loyalty, and perseverance. And students were required to recite the Pledge of Allegiance to the American flag as part of daily instruction.
"Our model of service combines caring for animals and working on the root causes of animal abuse and abandonment – character, beliefs, habits," Dyson said as he trimmed the hooves of a Shetland pony . "We develop and provide helpful educational resources in schools and homes, in addition we provide experience at the ranch or group location served. We take care of the animals that need our help, and they serve to inspire people and work around the farm.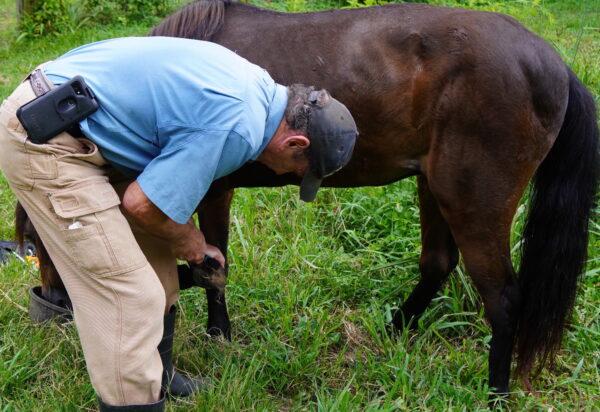 Compassion Ranch is a sanctuary and education center that not only gives abused and neglected animals a second chance, but serves a purpose of "service to people through character education," he said. .
Dyson explained that he coaches using character traits of compassion, courage, cooperation and patriotism. He organizes day camps, seminars and personal leadership coaching for anyone who needs it. He believes that by interacting with animals and learning about their difficulties before they are brought to him, people will learn to be more compassionate not only with animals but also with their fellow human beings.
He is convinced that animal abuse and neglect is a learned behavior.
"Aggressors often learn their behavior as they grow up. If Dad thought it was okay not to protect the family dog ​​with a fence and shelter or to shoot another dog for walking into the yard or to "drop" a dog because it has become awkward, children can repeat [that behavior]Dyson said. "Tying dogs to chains is generally a learned behavior. The same goes for harming or killing animals for entertainment. To change, we need to show and try to inspire people. improved beliefs and actions.
"The character begins at home and at school. We can do more to help teachers help students learn and experience character traits that lead them to grow in more caring, ethical, and responsible ways. We provide experiences for parents and children, grandparents and grandchildren, and others who are learning about and caring for animals. People tend to treat other people much the same way they treat animals, especially when no one is watching.
Besides compassion and care, which are there in abundance, there are other considerations. The 34 animals on Dyson's ranch consume about 10,000 pounds of food every month. Fifteen of the animals are equines – horses, ponies and donkeys – the others are dogs, cats and goats.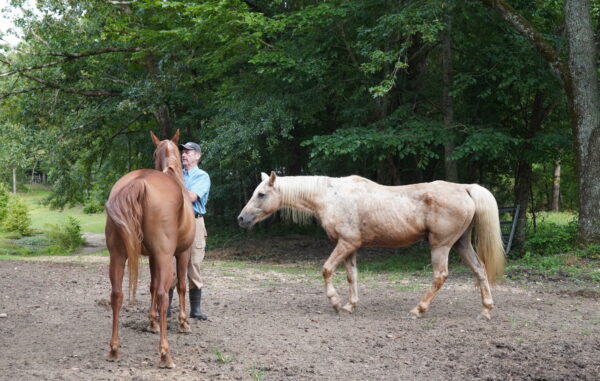 Benefactor Lana Calhoun lives in Texas, but that doesn't stop her from donating to Dyson's cause.
She explained that when she lost her beloved Australian Shepherd mix in March, a friend made a donation to the ranch in memory of his "Sophie." She said she did her research and looked on the ranch's website. She liked what she saw and sent a check to Dyson. She said she received the traditional tax letter, but then received something else that surprised and impressed her.
"I got a nice handwritten thank you card from David Dyson," Calhoun recalled to The Epoch Times in a phone interview. "I emailed him and told him I was happy to help and gave him my phone number – and the rest is history."
Calhoun, with a business background, collaborated on a brochure and contributed a wealth of knowledge to help Dyson in his vision for the ranch. Calhoun also has extensive experience volunteering at shelters and serving on shelter boards.
Although the two have only been collaborating since May, they have a common goal of ensuring animals are cared for and the compassion movement continues.
"I don't remember who the quote is," she lamented. "And I'm probably paraphrasing because I can't remember exactly, but it was basically [that] 'you can tell the nature of a person by the way he treats his animals.'
Calhoun plans to visit Dyson and the ranch in August, she said.
Although Dyson funded and did most of the work itself, it still needs more, more than donations. He wants to start a "movement" that will strike at the heart of every animal lover and stir up the patriotism he feels has been lost. And that, he says, starts with youth.
Dyson holds a doctorate in education from Vanderbilt University and completed management institutes at Harvard University and Carnegie-Mellon University. He received a Bachelor of Commerce from Auburn University and a Masters in Management from Birmingham-Southern College.
But more than anything, Dyson said he wants to start a movement to care for animals and instill compassion and character in children because it will serve them and the nation for years to come. .
"Teach your children – teach – it's a thing to do," he said.
"It's one thing to own it. It's one thing to be, but if you want to stand up for something and have the opportunity to inspire more people to want to be with you because they know what you stand for… Improve yourself, tell the story story.