By police personnel1
In the first-ever American Kennel Club (AKC) / United States Police Canine Association (USPCA) K9 Detection Dog Challenge, 20 K-9 law enforcement agencies from across the country will showcase the important role working dogs play in the community safety.
The inaugural event, which will take place at PNC Arena in Raleigh, NC, will air on ESPN2 on Sunday, November 28 at 10 p.m. ET
"We are delighted to host this exciting event with the USPCA," said AKC Executive Secretary Gina DiNardo. "It's amazing to see these dogs in action and to show viewers their training and precision. We can't wait to share it with the ESPN2 audience.
Ten teams of United States Police Dog Association (USPCA) narcotic dogs and 10 USPCA explosive dog teams will be in attendance, with breeds ranging from Belgian Malinois To German Shorthaired Pointer To Weimaraner. The dogs compete against each other to find their illegal substance as quickly as possible.
K9 Zada ​​is locked in and focused for her debut on @espn tomorrow where she will represent the NYPD and join other working dogs from across the country in the @akcdoglovers K9 detection dog challenge.

Tune into ESPN2 on 11/28 at 10 p.m. (check local listings) to see our team in action! pic.twitter.com/iwacPMKN4m

– NYPD Transit (@NYPD Transit) November 27, 2021
The event will pit the best narcotics and explosives detection dogs and their handlers against other law enforcement teams from across the country. The teams will navigate the obstacles and sort through the distractions to find the hidden objects. They are graded on the accuracy of their search, the perfection of their alert (telling the handler where the skin is), and the discovery itself (a combination of the dog and handler's ability to accurately tell judges where to stand. finds the skin).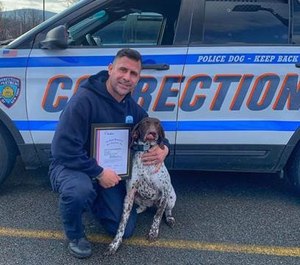 A team from the New York City Corrections Department K9 is one of the participants. Correctional Officer Lawrence McArdle and K9 Zoey, who are struggling to detect contraband on Rikers Island, are competing on behalf of DOC. McArdle recently received a Meritorious Service Medal for helping capture an individual on Rikers Island who escaped from a shelter in June 2020. Most recently, McArdle and Zoey won a trial citation award detection of USPCA region 7.
"I am excited to participate in the 2021 AKC / USPCA K9 First Sense Dog Challenge with my friend Zoey," said McArdle. "We'll do our best to bring home the grand prize!
Check with your local provider for ESPN2 channel information. To learn more about AKC events, visit www.akc.org. To learn more about the USPCA, visit https://www.uspcak9.com/.